We're seeing a growing demand for spouted pouches so have increased our capabilities and options available to suit customers' needs.
Whether the pouches are for a single use "grab and go" mixed cocktails – (ideal for picnics in the park) or to provide a postal subscription based refill option for beauty or homecare products – we can print and produce what you need.
Sizes and Finishes
We can produce spouted pouches for single servings or large enough to share with friends. Spouts can be added centrally along the top or as a corner spout, with black and white options and in widths of 10.5mm and 17.5mm. Other sizes and colours are available but may have an MOQ and tooling costs. 
There are a range of base material options depending on what best suits the product going in the pouch plus we can laminate with both matt and gloss finishes to enhance the pouch's final look.
The advantage of ordering spouted pouches is that they are fully heat sealed around all edges, ready to be filled directly through the spout. You don't have to worry about your own heat sealing capabilities, we've done that for you. We will supply the caps or they can be purchased directly from the supplier.
Refills Pouches – Reduce and Reuse
There are beauty industry brands that have recognised the sustainable benefits of offering refillable options for a very long time. In store refill points for perfumes and creams have been around for years where anyone can buy a beautiful glass perfume bottle only once but pop into their nearest John Lewis, House of Fraser or other department store and refill their bottle for a much lower cost than buying a new bottle. Great for the environment and also for the pocket. With the recent pandemic the possibility of refilling in-store all but disappeared during lockdown periods and consumers looked to online options. However, even with stores reopening, the landscape has changed.
"Consumers will be wary of the hygiene standard used in in-store refills, and brands must prepare to rebuild consumer confidence in the eco-initiative that was gaining pace pre-crisis," says Euromonitor's Senior Beauty & Fashion Research Analyst, Gabriella Beckwith.
The development of the spouted refill pack is the next stage of the in store refill giving the consumer an option to refill at home reducing plastic packaging by up to 85%.
READ: 16 best refillable beauty products to buy in 2021
READ: P&G announces reusable and refillable bottle system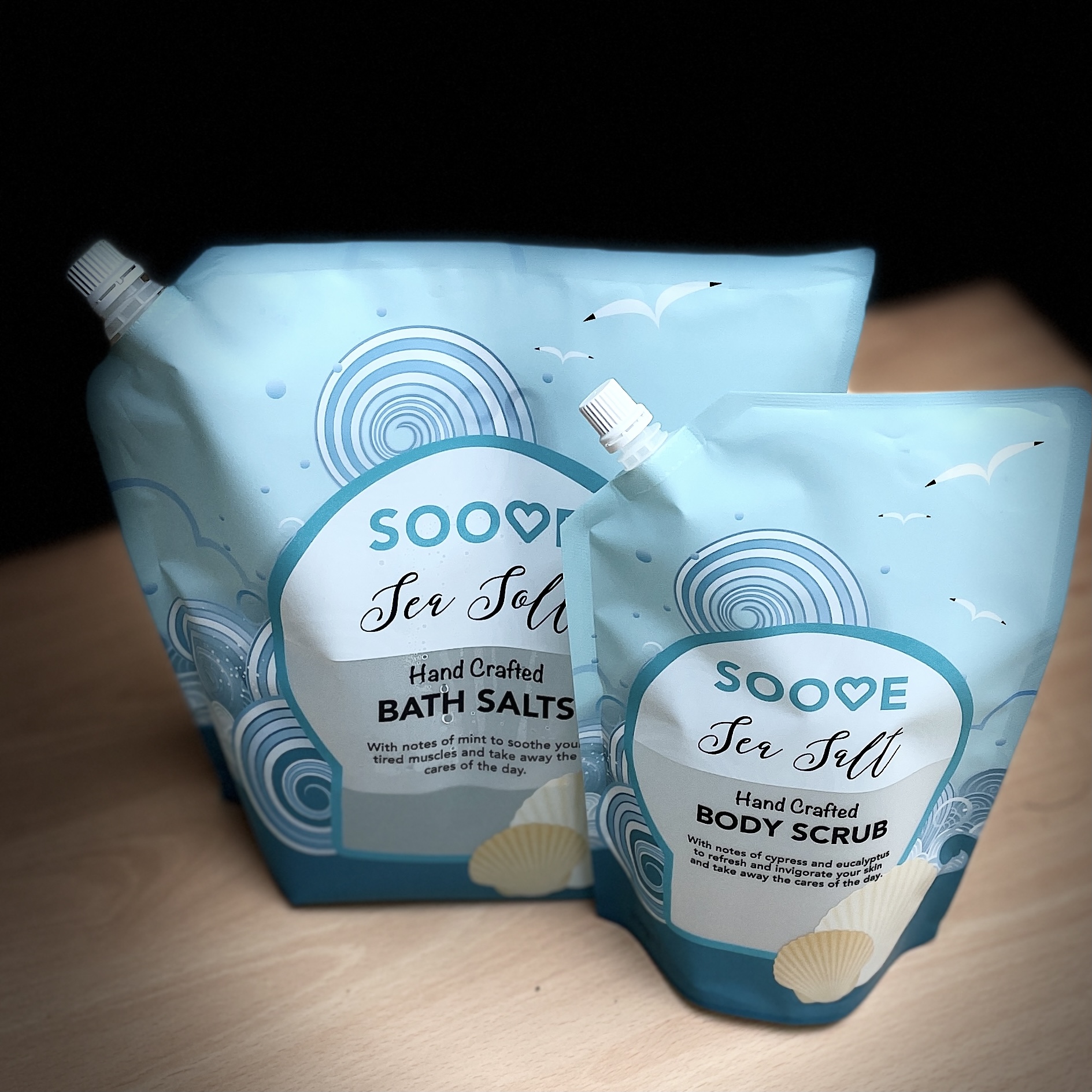 Pouches in the Drinks Industry
The spirits industry has a growing trend for either grab and go ready mixed cocktails or refill options similar to the beauty industry. In response to the necessity for online shopping, purchasing spouted pouches online that can be delivered safely (and economically) through letterboxes is growing in popularity. Companies such as  Dunnet Bay Distillers Rock Rose Gin and Glaswegin have beautifully branded bottles for their products but have expanded their online shop to offer a refill pouch version in spouted pouches. Monthly subcriptions to cocktail clubs such as The Asterley Bros Company give consumers the opportunity to try new, exciting cocktail blends with the added incentive of spcially chosen mixers, snacks and a custom print. It's a classy party in a box!
Labels on Pouches v Custom Printed Pouches
These companies have for the most part not embraced the fully branded printed pouch but have instead attached a label to plain pouch. Much like applying a label to a bottle so there's an easy transition from what they already know. In addition, conventionally custom printed pouches require a commitment to a very large MOQ with very long lead time – not ideal and very risky financially while brands are testing the market.
BakPac's ability for low minimum order quantities and very quick turnarounds means we can help in the short run while businesses test the market yet maintain the professional, high quality branding they have established with their regular bottles and packaging.