At BakPac we have invested in the most advanced print and conversion equipment possible for the production of short to medium run digitally printed flexible packaging. Digitally printed, thermally laminated and pouch converted on industry leading equipment.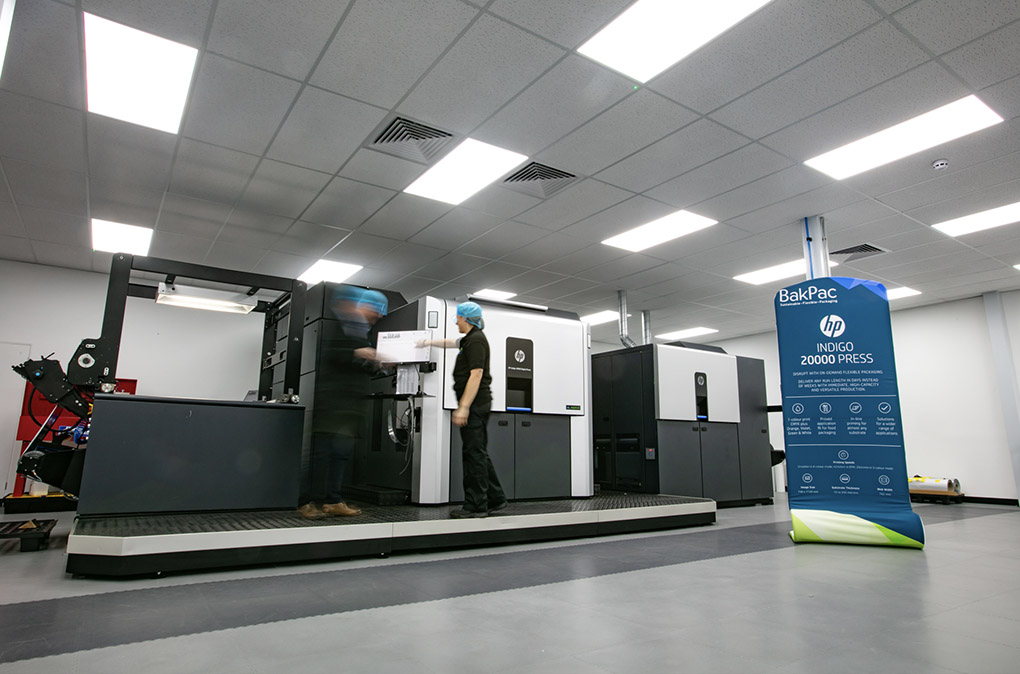 Tech Specs
Printing Speed
31m/min in 4-colour mode; 42m/min in EPM; 25m/min in 5-colour mode
Image Size
736 x 1092 mm
Substrate Thickness
12 to 250 microns
Web Width
762mm

Printing on HP Indigo 20000
The HP Indigo 20000 was the first major investment for the BakPac plan, being delivered and installed in August 2019. Baker Labels already produces labels on 3 HP Indigo 6900 presses and has a long established relationship with HP since first producing digitally printed labels on an HP 4050 in 2006 so it was a natural progression with the move to flexible packaging to continue the investment with HP.
The HP 20000 is a proven application fit for food packaging and with technology such as HP Smartsteam Mosaic and Collage it can offer variable images, data and brand protection. In addition, HP ElectroInk is fit for use in compostable and recyclable packaging.

Laminating on an Enprom Thermal Laminator
The Enprom Thermolaminating machine has been specially designed for flexible packaging markets, pouches and adding value to the quality finishing of the products.
The compact solution is composed of two stages joined with a web path bridge. The first unit supports two unwinders with its control tension units and corona treatment. The second unit contains the rewinder and laminator unit. The machine is rigidly joined by four union beams. The new development of this solution has been designed with the goal of shortening the web path to a maximum and thus reducing waste by up to 33%.
Click to view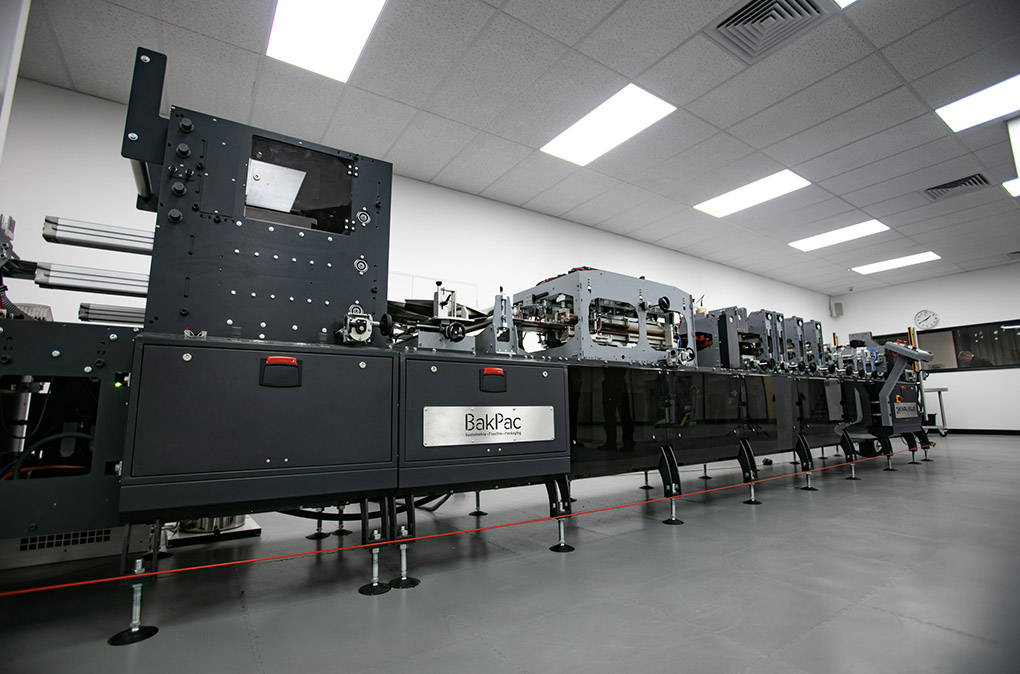 Tech Specs
Compact, single lane, quick changeover pouch machine, designed for short/medium run high-performance production of:
2-side-seal pouches from 1 web, with/without zipper
3-side-seal pouches from 1 web, with/without zipper
Stand-up pouches from 1 web, with/without zipper
3-side-seal pouches from 2 independent web, with/without zipper
Stand-up pouches from 3 independent webs, with/without zipper

Pouch converting on a Karlville Pouchmaker
At BakPac we installed the first ever dual web Karlville pouch maker. As well as the expected folding of a wide web of material to create a pouch with doyen or K-seal, this Karlville allows the production of pouches with different materials on the front and reverse as well as another for the gusset. It has a very low scrap rate during machine start-up, changeovers and roll change therefore reducing waste.
Reduce Cost
Minimum inventory
Volume-based on demand
Reduce obsolescence
Market testing
Reduce Risk
Market testing
Use the most updated version of the package
Reduced time-to-market
Volume-based demand
Global colour management
Anti-counterfeit components 
Print quality Regulatory compliance
More value to consumers
Reduced time-to-market
Deliver localized versions
Cause driven promotions
Event-driven promotions
Late-stage product differentiation
Product life cycle solutions
Environment
Reduce waste
Reduce carbon emissions
Reduce obsolescence
No hazardous chemicals
Reduce energy consumption
Supply Chain
Track & Trace
Serialization
Revision control
Warehouse & distribution
Just-in-time production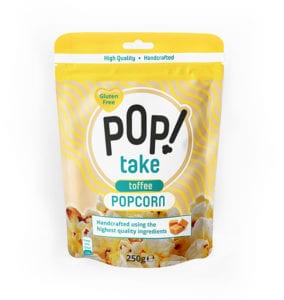 Stand Up Pouches
As the name suggests, this packaging stands up on the shelf providing high product visibility.
Bakpac at baker labels
If you'd like to know more about how BakPac can supply you with flexible packaging please get in touch.
If it's labels you're after please visit us at Baker Labels.