BakPac is a Trade Digital Flexible Packaging manufacturer. As part of Baker Labels we have over 45 years of print experience and trade ethics that are second to none. We print and produce short to medium runs of stand-up pouches, pillow pouches and printed film for trade customers looking for a high speed to market option for their customers.
As a successful and long established trade label printer, why did Steve Baker decide to branch out into flexible packaging?
"It was big step to move into the manufacture of flexible packaging so we planned this for a couple of years. Making the equipment investments, designing the factory refurbishment and the training and educating of our staff all took meticulous planning and a lot of time. However, it's been a brilliant journey and we've had great support from HP, ABG and Karlville along the way. I'm more than confident that it's the right decision for Bakers and I'm excited about the future." Steve Baker, managing Director of Baker Labels.
The neighbouring unit to Baker Labels became available at Hubert Road in Brentwood. This provided an opportunity to expand the premises that Bakers had moved into in April 2011. At the time the need for more space was not necessarily there but, with Steve Baker's ethos of continual investment, he knew it wouldn't be long before it would be.
Phil Smith joins Baker Labels as the new General Manager of BakPac [read more]
"I am delighted to become part of the Bakers team who are highly skilled and passionate about the customer base. Their continued investment, growth and technical development is second to none.
The prospect of joining the Bakers business and running such an exciting project was too good to resist, having seen the evolution of digital in the labels industry and understanding what benefits it would bring to the flexible packaging market I wanted to be a part of that journey."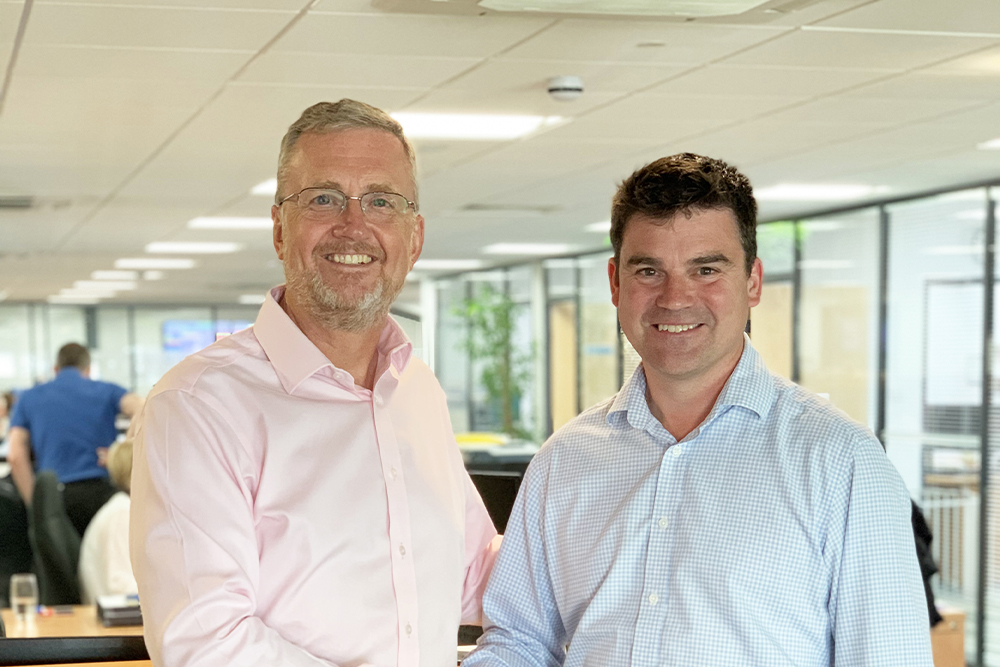 The central unit at Bakers is cleared and planning for the layout of the new BakPac facility is assisted by the production of full scale floor images.
The HP 20000 was the first major investment for the BakPac plan, being delivered and installed in August 2019. It was then wrapped up for protection as the factory and BakPac facility was refurbished and constructed around it. Baker Labels already produces labels on 3 HP Indigo 6900 presses and has a long established relationship with HP.  They first digitally printed labels on an HP 4050 in 2006 so it was a natural progression with the move to flexible packaging to continue the investment with HP.
The HP 20000 is a proven application fit for food packaging. With technology such as HP Smartsteam Mosaic and Collage it can offer variable images, data and brand protection. In addition, HP ElectroInk is fit for use in compostable and recyclable packaging.
September to November 2019
Over the course of the next few weeks the central unit within Baker Label's facility went through a major refurbishment to install the "clean room" BakPac facility. To manage the additional power supply required we also had to install a whole substation in the car park. Limiting onsite staff parking for a few weeks was a bit of a drama!
Karlville delivery and installation
For the conversion of the printed, laminated film we invested in the first ever dual web Karlville Pouchmaker. As well as the expected folding of a wide web of material to create a pouch with doyen or K-seal, this Karlville allows the production of pouches with different materials on the front and reverse as well as another for the gusset. It has a very low scrap rate during machine start-up, changeovers and roll changes therefore reducing waste.
Enprom Thermal Laminator delivery and installation
Enprom is a company of A B Graphic International and Kocher & Beck. Baker Labels has a long established relationship with A B Graphic, with a fleet of Digicon presses for label embellishments and finishing. So when Steve Baker heard of the connection to Enprom he knew they would be able to manufacture a thermal laminating machine suitable for the digitally printed flexible packaging market. Steve worked closely with Matt Burton and the Enprom engineers as they designed and built their first ever thermolaminating machine. The press was delivered to Bakers in December 2019.
Baker Labels launches BakPac for Digitally Printed Flexible Packaging
Brentwood's Business of the Year, Baker Labels, officially added a new flexible packaging arm to the company with the launch of BakPac. BakPac will manufacture digitally printed flexible packaging in the form of stand-up pouches, pillow pouches, shrink wrap and printed film.
BakPac was officially opened on Thursday 12th February with a ceremonial ribbon cutting by Marian Baker, who founded Baker Labels with her husband Roy in 1973. The event was attended the Deputy Mayor of Brentwood Cllr Olivia Sanders, former Mayor Mrs Sheila Murphy, Deputy leader of Brentwood Council Noelle Hones, representatives from Bakers' supported charities SNAP & Kids Inspire along with Head of Business Studies at Brentwood School Mrs Kelly Giles, retired Baker employees and other invited guests.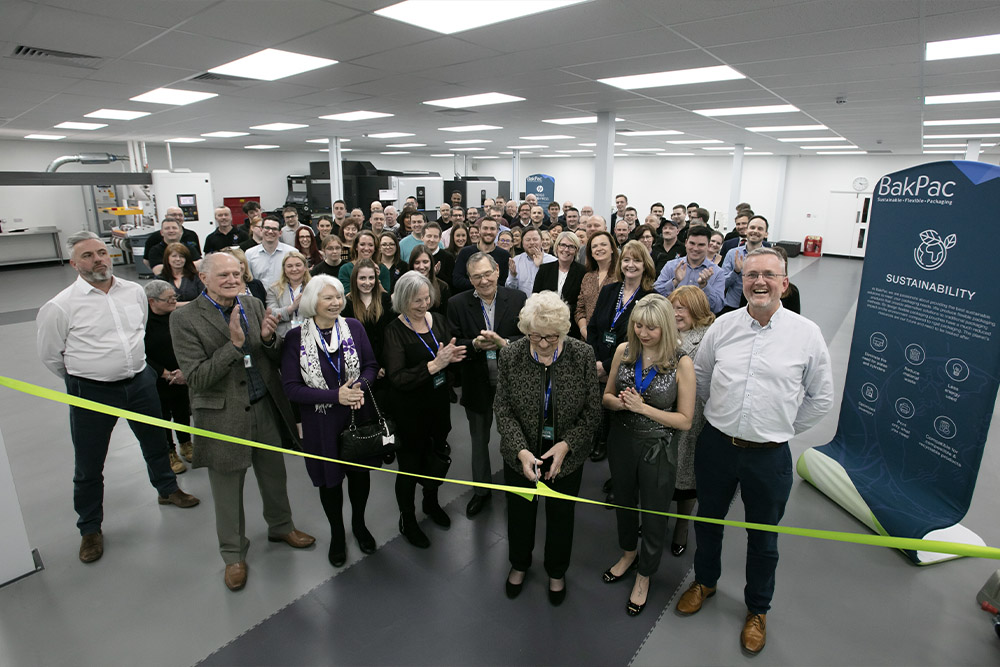 Bakpac at baker labels
If you'd like to know more about how BakPac can supply you with flexible packaging please get in touch.
If it's labels you're after please visit us at Baker Labels.