Baker Labels launches BakPac for Digitally Printed Flexible Packaging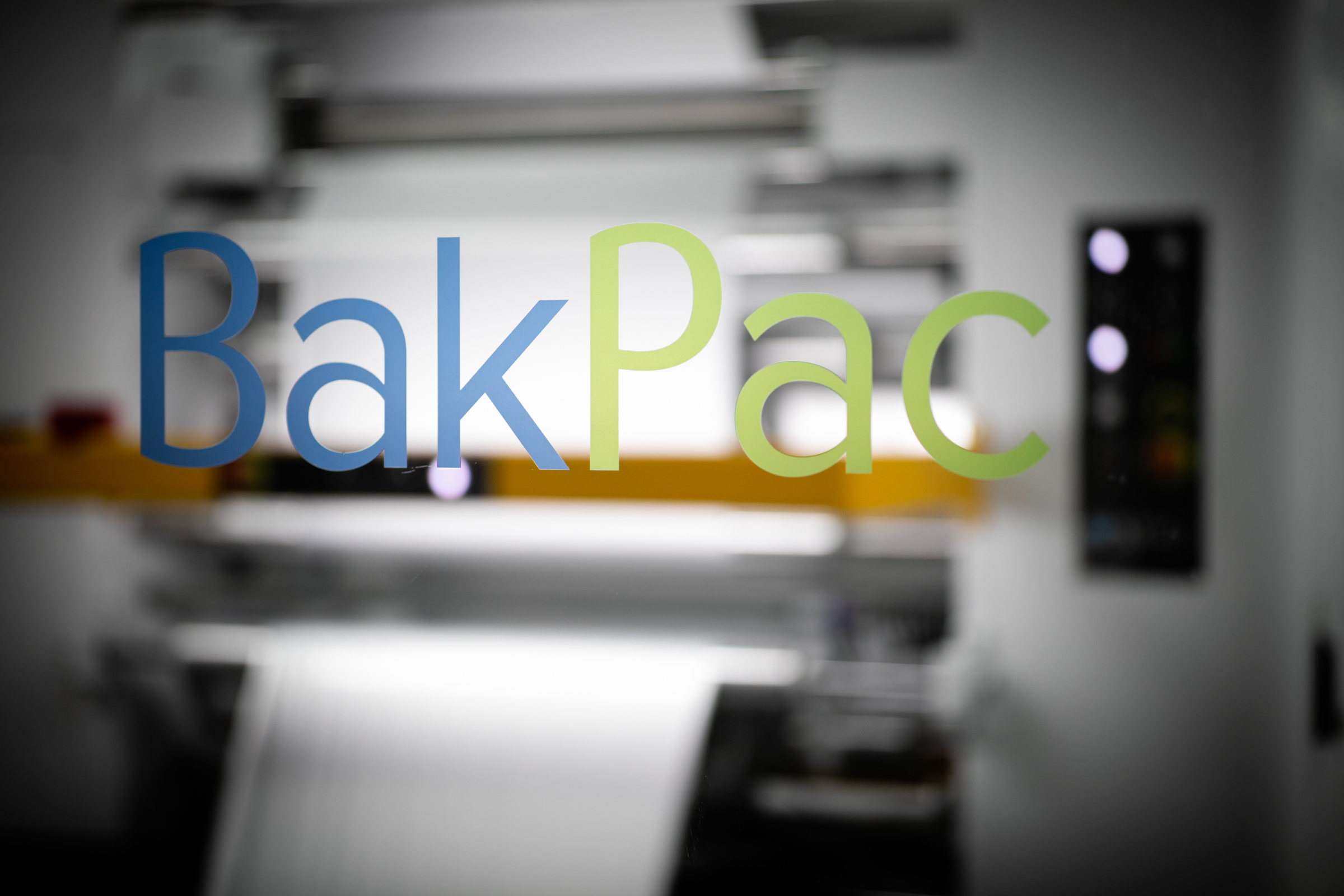 Brentwood's Business of the Year, Baker Labels, a trade label manufacturer has officially added a new flexible packaging arm to the company with the launch of BakPac. BakPac will manufacture digitally printed flexible packaging in the form of stand-up pouches, pillow pouches, shrink wrap and printed film.
BakPac was officially opened on Thursday 12th February with a ceremonial ribbon cutting by Marian Baker, who founded Baker Labels with her husband Roy in 1973. The event was attended the Deputy Mayor of Brentwood Cllr Olivia Sanders, former Mayor Mrs Sheila Murphy, Deputy leader of Brentwood Council Noelle Hones, representatives from Bakers' supported charities SNAP & Kids Inspire along with Head of Business Studies at Brentwood School Mrs Kelly Giles, retired Baker employees and other invited guests.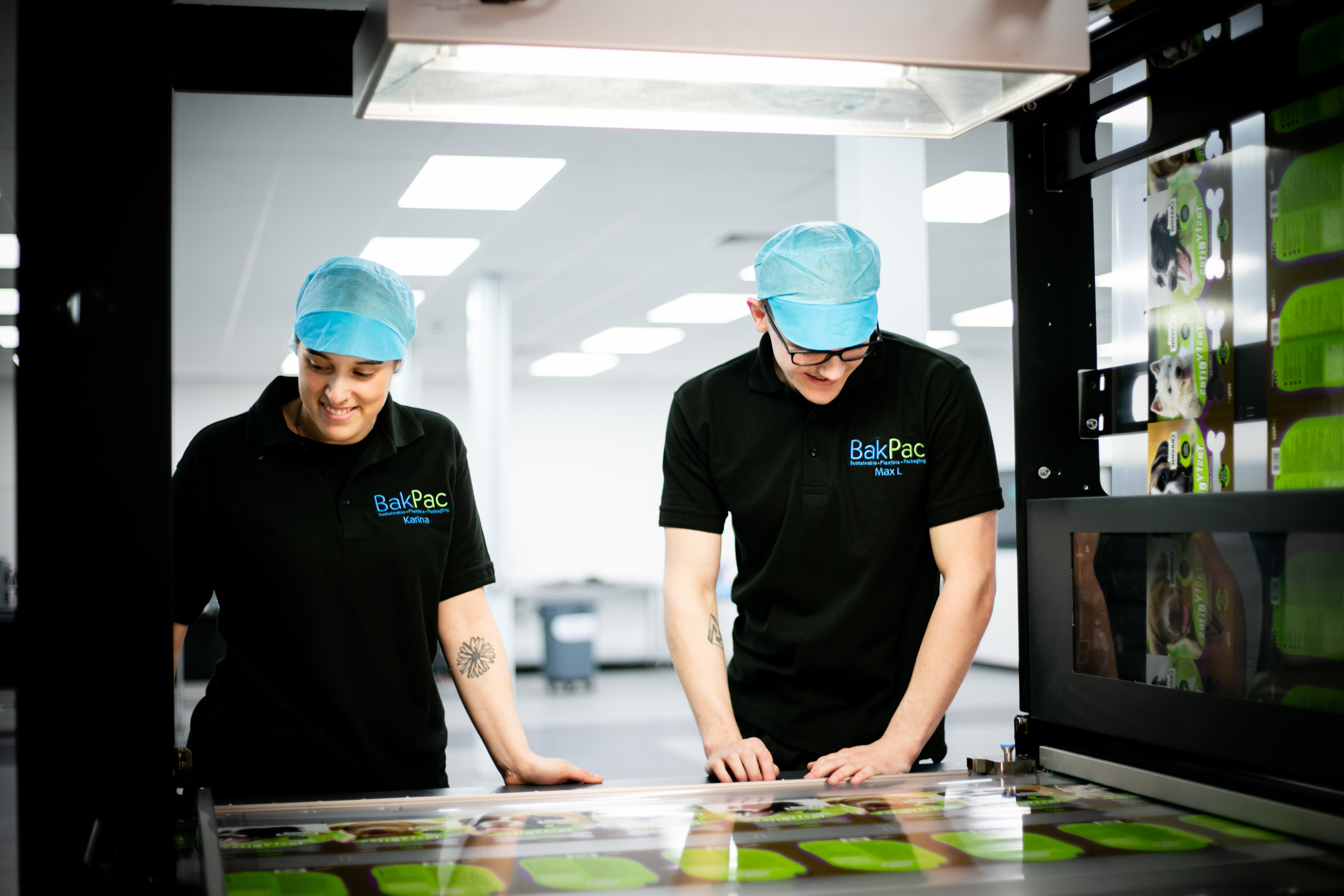 The £2.5m investment in BakPac included a factory expansion and renovation plus the installation of three new presses that will allow the whole process of manufacturing flexible packaging within the same facility. The process involves digital printing on an HP Indigo 20000, thermal lamination on an Enprom Thermal Laminator and pouch conversion on a Karville Pouchmaker. The business model is geared towards offering the trade print and traditional flexible packaging industries the option of offering short to medium runs of digitally printed pouches to their customers.

The production of digitally printed flexible packaging is a more sustainable option for packaging compared to traditional methods and more environmentally friendly.
• Reduced waste and energy consumption during production,
• Reduced carbon emissions and zero hazardous chemicals
• Less material used in production
• Less fuel used to ship the finished product.
In addition BakPac will be able to offer recyclable, compostable and biodegradable material options to customers. With a much reduced time to market and the option to order only what is required rather than their large MOQs (minimum order quantities), traditional packaging manufacturers will now, through BakPac, be able to benefit from offering seasonal or event-driven promotions, market testing packaging and product life cycle solutions.
• As a trade supplier BakPac will be offering the following trade services:
• Production of complete pouches
• Print only roll stock
• Print and laminate
• Pouch conversion from customer printed stock
• Material supplied by customer
• Concept proofing
• White label packaging and invoicing
It's a big step to move into the manufacture of flexible packaging so we've been planning this for a couple of years. Making the equipment investments, designing the factory refurbishment and the training and educating of our staff all took meticulous planning and a lot of time but it's been a brilliant journey and we've had great support from HP, ABG and Karville along the way. I'm more than confident that it's the right decision for Bakers and I'm excited about the future.
The prospect of joining the Bakers business and running such an exciting project was too good to resist, having seen the evolution of digital in the labels industry and understanding what benefits it would bring to the flexible packaging market I wanted to be a part of that journey.
From joining the business and hitting the ground running 8 months ago we have converted an empty warehouse into a state of the art digtial flexpac factory which involved a new mezzanine floor, room build, high voltage substation install, internal power circuit revamp, 3 machine installs, staff training, testing equipment and BRC standard programme. Wow, it has been such an exciting and busy few months all made possible by the support of an incredible team at Bakers.